NOW NAC Acetyl Cysteine 600mg 100 Caps
Directly Impacts Your Ability To Synthesize The Proteins You Eat!
Protein synthesis is one of the most vital functions taking place in each and every human body. In order for us to utilize our protein intake in an efficient manner, an ample supply of the amino acid glutathione must be present in our cells. NAC (N-Acetyl Cysteine) is essential in the formation of glutathione, as it directly impacts our ability to synthesize the proteins we ingest. NOW NAC (with added trace elements of molybdenum and selenium) acts as a precursor to the production of glutathione, helps ward off health problems through its antioxidant/detoxification properties and facilitates the production of several digestive enzymes.
Antioxidants for the maintenance of healthy cells and tissues in individuals with chronic bronchitis
With 600mg of NAC (N-Acetyl-Cysteine)
With synergistic Selenium & Molybdenum
Awareness of the importance of antioxidants, especially in the increasingly toxic environments in which we live, has increased demand for products that protect against the damaging effects of reactive oxygen species (ROS) such as hydrogen peroxide and hydroxyl free radicals. These free radicals can be formed by our own metabolism (oxygen to burn fuel), and from external environmental factors such as pollutants, tobacco, smoke, drugs, xenobiotics, or radiation. N-acetyl cysteine (NAC) is a very efficient way to replenish glutathione, one of the body's most potent antioxidants, and reduce the damaging effects of ROS. Scientific study has also shown a reduction in sick leave time when NAC has been administered to those suffering from chronic bronchitis. NOW® has added the essential trace minerals of molybdenum and selenium to further enhance the antioxidant potential of this formulation.

N-Acetyl Cysteine (NAC) is a stable form of the non-essential amino acid L-Cysteine. It is a sulfur containing amino acid that acts as a stabilizer for the formation of protein structures, and is also a necessary component for the formation of glutathione. Molybdenum and Selenium are essential trace minerals that facilitate the production of several important enzymes.
 NPN 80006038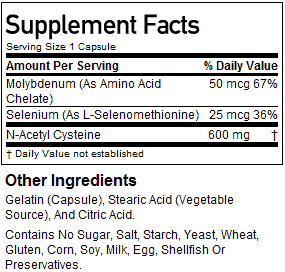 Directions: As a dietary supplement, take 1 capsule 2 times a day.