Aeryon Wellness Sleep n Beauty
Wake up looking & feeling better!
Are you getting enough beauty rest? Be the brightest of them all with a good night sleep and the nutrient building blocks to repair and rejuvenate skin, hair, nails and even your eyes with sleep-enhancing "Sleep N Beauty" from Aeryon Wellness.
How does Sleep N Beaüty work?
As we age, our collagen production decreases. Sleep N Beaüty contains scientifically proven ingredients that naturally restore your collagen supply & work as a sleep aid to help reduce the time it takes to fall asleep.
What is Sleep N Beaüty made of?
Sleep N Beaüty is a scientifically formulated supplement that will have you sleeping through the night while supporting collagen formation, anti-aging & immune health with calming sleep supportive ingredients such as GABA, Melatonin, Magnesium Bisconade, Lysine, Indian Gooseberry, Zinc & vitamin D, A & C.
Is Sleep N Beaüty right for me?
If you find yourself looking for a delicious night time drink that supports sleep and collagen formation, Sleep n Beaüty will provide you the relief you need.
Features:
Sleep N Beaüty Sleep and Collagen Support
• Anti Aging
• Sleep Support
• Collagen Support
• Immune Health
What makes Sleep N Beaüty Unique?
Sleep N Beaüty is an all-natural supplement designed to maintain healthy hair, skin, and nails by supporting collagen formation and supplying anti-aging antioxidants. Each ingredient in sleep n beaüty is formulated to create a youthful glow by improving the quality of sleep, boosting immune health, supporting vision and nourishing hair, skin and nails.
How does Sleep N Beaüty work?
Sleep N Beaüty is formulated with magnesium bisglycinate, GABA and melatonin to promote a restful sleep, relaxation and reduce the signs of stress. These sleep support nutrients are combined with antioxidants and collagen boosting nutrients that protect the body from breaking down (aging,) in addition to building of connective tissue in skin, hair and nails. Fortified with vision and immune support and factors for strong bones and teeth. This formula helps you feel and look younger!!
Sleep N Beaüty works on the first dose. Take 1 scoop (2.9g) once per day at or before bedtime with food. Take a few hours before or after taking other medications or natural health products. For jet lag take once a day at bedtime, while traveling and at destination until adapted to the new time zone or daily pattern. Make sure to check out your FREE sleep n beaüty support tips and meal plans using the QR Code on the bottle.
Magnesium bisglycinate: Magnesium bisglycinate provides the largest dose of elemental magnesium per serving and is the easiest form for the body to absorb. It promotes restful sleep, relaxation and reduces the symptoms of stress caused by anxiety.
Melatonin: Melatonin helps with sleep quality including helping to fall asleep sooner, staying asleep longer, restoring circadian rhythm and reducing jet lag without causing drowsiness the next day.
GABA: GABA is the "feel good" neurotransmitter. It has a natural calming effect and helps brighten our mood. GABA helps to improve the quality of sleep and even reduce the incidence of insomnia. Indian
Gooseberry: Indian Gooseberry has high levels of vitamin C, a strong antioxidant that reduces the body's natural aging process and boosts immunity. It is also well reputed to prevent collagen breakdown in the skin tissue and promote hair growth by inhibiting an enzyme that causes hair loss. Indian Gooseberry is also beneficial to protect against age-related macular degeneration by improving mitochondrial health.
L- Lysine: Lysine is an amino acid required for the formation of collagen the essential building block for healthy connective tissue. Lysine reduces the symptoms of stress by reducing cortisol and blocking receptors involved in stress response. This important amino acid also supports calcium absorption and retention and helps boost the immune system
Zinc Citrate: Zinc Citrate supports eye health, immune health and is known to promote healthy, youthful skin by reducing the early signs (skin, wrinkles, age spots). Zinc is also helpful to heal skin lesions and reduce the severity of acne.
Vitamin D: Vitamin D is well known for its benefits in helping with bone formation, healthy teeth and immune health. Vitamin D also helps in the growth and repair of cellular tissues which helps to reduce the signs of premature aging.
Vitamin A: Vitamin A helps with vision health, supports immunity and may help treat skin lesions and acne by helping to form new skin cells.
Vitamin C: Vitamin C is a powerful antioxidant that protects your skin and cells from age-related deteriora- tion. Vitamin C has immune boosting properties and is an important nutrient for collagen formation.
60-second video explaining product and ingredient
2 7-day planner veg and non-veg
Information on the stress/hormone connections
10 daily affirmations
Stress support tips
Nutrition's for stress
Restore ingredient breakdown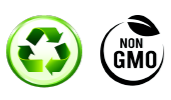 Our bottles are 100% Recyclable